Sunday, 30 November 2008 20:40


Beads and things we have in stock for Halloween




Zombie Beads!!

Who loves Plants vs Zombies!!!

12mm Round made of Clay

$12.00 Assorted. We're mostly out of zombies, so it's a lot of plants

But very cool looking plants!
New!! Zombie Charms!
Who loves the Walking Dead!!

Charms are about 1" in length some are longer/heavier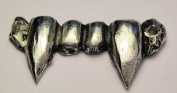 Vampire Teeth - $1.00
(Holes on each end)






Ceramic Bat Bead  - 2 SIZES!!

Tiny = approx 12x17mm
drilled wing to wing
$1.25 each


and LARGE 25mm
drilled ear to ear $2.50 each
d
dr

and

Skulls
SHAMBALLA - Bone White Skull Beads
Drilled through skull beads made of Howlite.
15" Strand = approximately 40 beads

$12.00 per strand
Hand-carved:  9x7.5m, Fabulous for Day of the Dead designs!


MALA - Bone Skull Strand
$12.00 per strand
70" (yes, SEVENTY) inch strand = LOTS of Skulls
8mm, still nice quality!
Click on the picture to see a close-up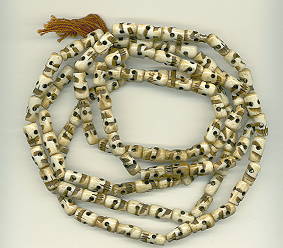 Skull Fimo Tube Beads!
Drilled through fimo tubes in two sizes with a skull design.
1/2" (Small)= DISCONTINUED
3/4" (Large) = 40 cents each or $25.00 per 100
20mm Round Disc = 1.00 each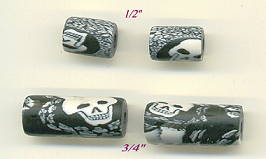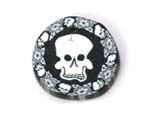 12mm Czech Glass Skull Beads!
Drilled through glass beads oval shaped with a skull design carved in the middle.
Approximately 10x12mm
Three colors available: Black, Gold and White
35 cents each




18mm Carved Turquoise Skull Beads!
Drilled through Chinese Turquoise beads
Hand-carved, no two are alike!
$3.00 each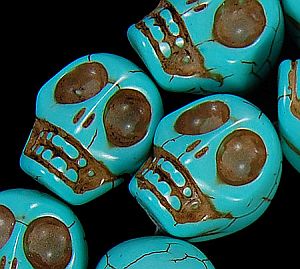 Pewter Charms
Great Halloween theme pewter charms
priced as marked

Take a look!
Pirate Skull with Swords
$1.00
Hand Painted Boo! Jack-o-Lantern
$1.60
Fred A-Scare, the Dancing Skeleton
(Not Moveable) $1.50 each
#47
Bat
60 cents
#395
Witch
50 cents
#671
Jack o'lantern
50 cents
#26
Halloween Cat
50 cents
#52HP
Hand Painted Ghost
$1.60
#477
Wizard
50 cents

VAMPIRE TEETH - $1.00


 

 
Last Updated on Wednesday, 15 June 2016 16:55
---
Trash City
P.O. Box 13653, Scottsdale,
AZ 85267, USA
Tel: 602-399-9500
Toll Free Fax:  866-234-5324
E-mail: info@trashcity.com
Copyright © 2009 Trash City. All Rights Reserved.