Monday, 01 December 2008 00:47
Pewter Christmas Charms
#Q3261
Santa With U.S. Flag
60 cents
#490
Solid Dove
40 cents
#427
Christmas Stocking
60 cents
#733
Peace Dove
40 cents
#1216
Nutcracker
40 cents
#1807
Seasons
Greeting Angel
40 cents
#1958
Christmas Tree
50 cents
#1558
Santa
60 cents
#581
Candy Cane
40 cents
#2439
Gift Bag
50 cents
#352
Large Snowflake
45 cents
#2352
Christmas Star
50 cents
#2202
Seasons Greeting Star
50 cents
#2083
7mm Snowflake Bead
Drilled through
35 cents
Gemstone Triangle Beads!
Triangle shape beads, sold by the 16-in strand.
Approximately 25 beads on a strand.
Available in Green Aventurine, Fancy Jasper (pictured) and Moss Agate
In our opinion, these make lovely Christmas trees! (hint,hint)
This particular bead is 15-16mm and drilled through.
$12.00 per strand
Click on image to see a close-up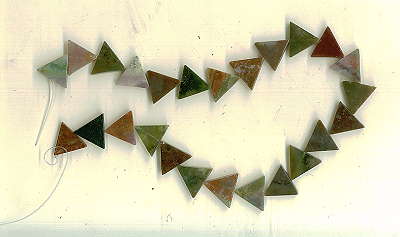 Last Updated on Monday, 01 December 2008 01:08
---
Trash City
P.O. Box 13653, Scottsdale,
AZ 85267, USA
Tel: 602-399-9500
Toll Free Fax:  866-234-5324
E-mail: info@trashcity.com
Copyright © 2009 Trash City. All Rights Reserved.